Patchwork, Applications, Quilts
Patchwork refers to the sewing together of fabric pieces (originally of fabric remnants) according to different patterns, in order to obtain a larger piece.
The sewing of fabric pieces on a background fabric is called Application.
A Quilt is a blanket or wall hanging consisting of normally 3 layers (top, which can be, for example, patchwork or application; fleece as a warm liner; backside). The layers are connected with quilting stiches that can form diverse patterns.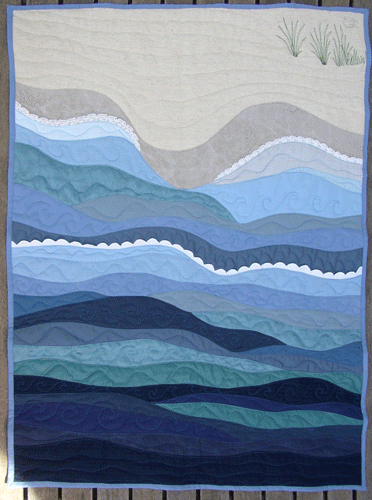 Am Strand (german: at the Beach) (2012) is a quilted wall hanging made out of mainly blue fabric by using a sewing machine to quilt a wave pattern and to make embroidery.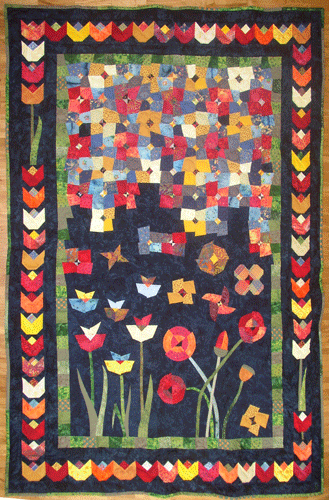 Blumenhimmel (german: Floral Sky)
132cm x 198 cm
Cotton fabrics, machine sewn and quilted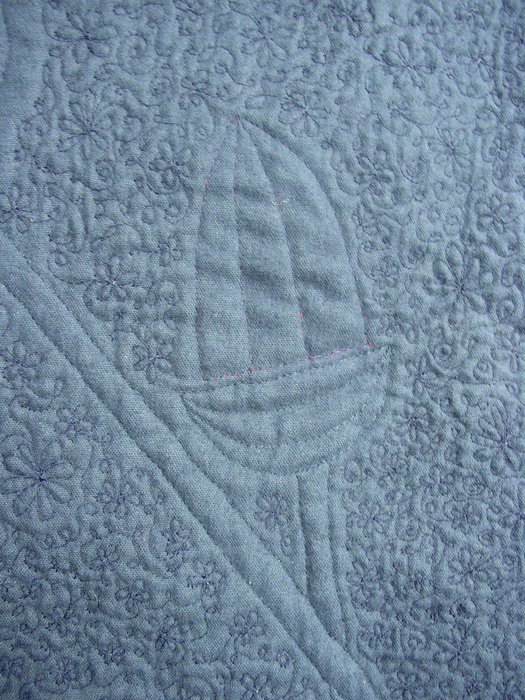 On the back of the quilt you can clearly see free motion, with the sewing machine quilted, flowers.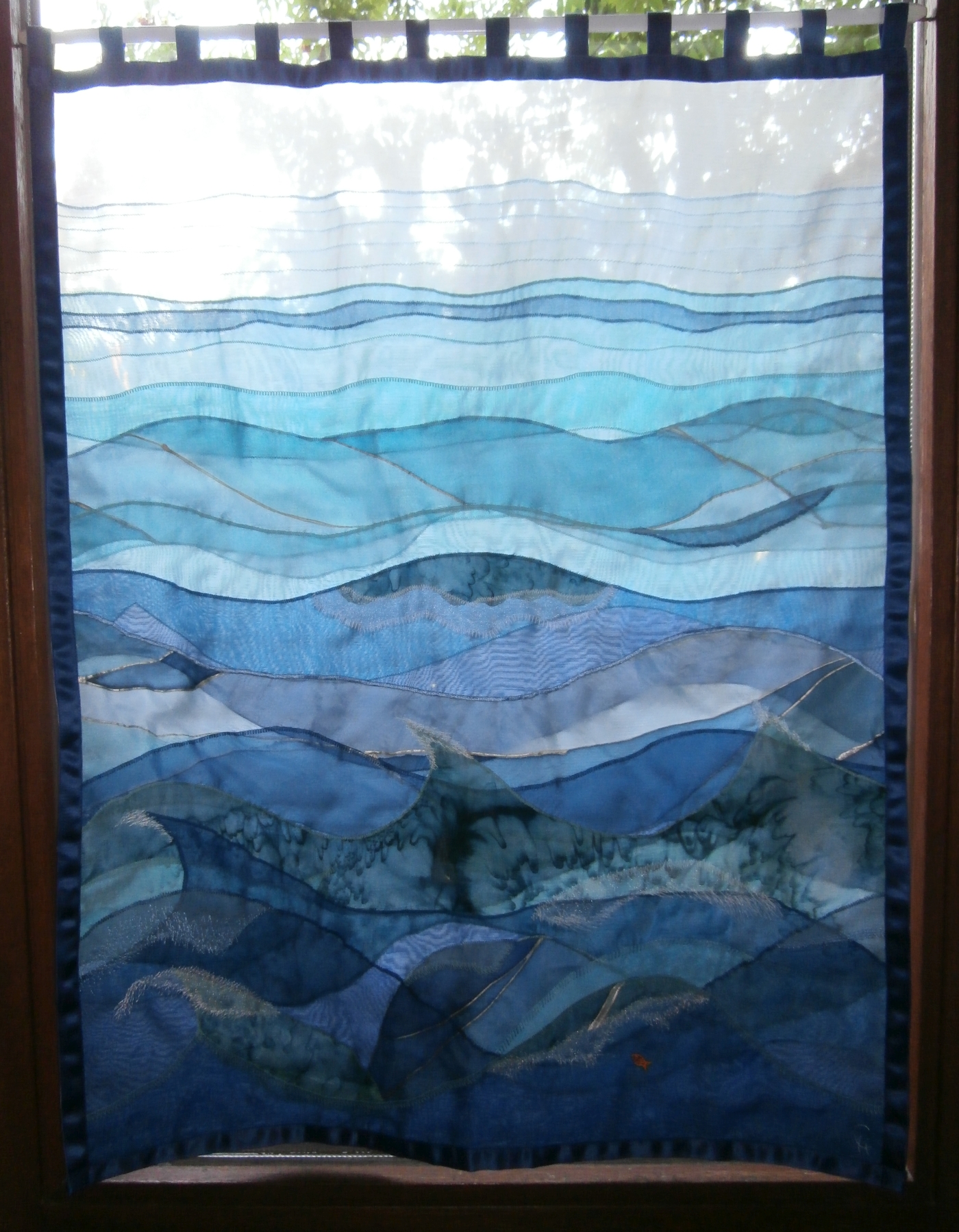 Fenstermeer (german: Window Ocean) (2015)
This bathroom window curtain was made using the sewing machine to connect delicate transparent fabrics and embroider it by hand and using the machine.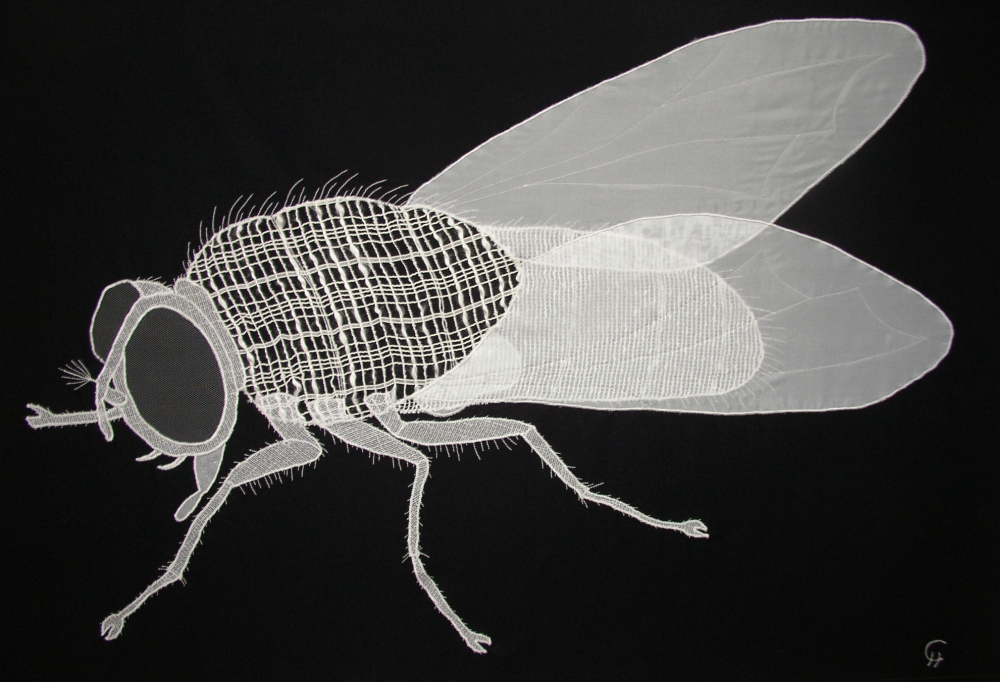 Fly, Application, 101 x 71 cm
Curtain fabric on black cotton, machine sewn and machine embroidered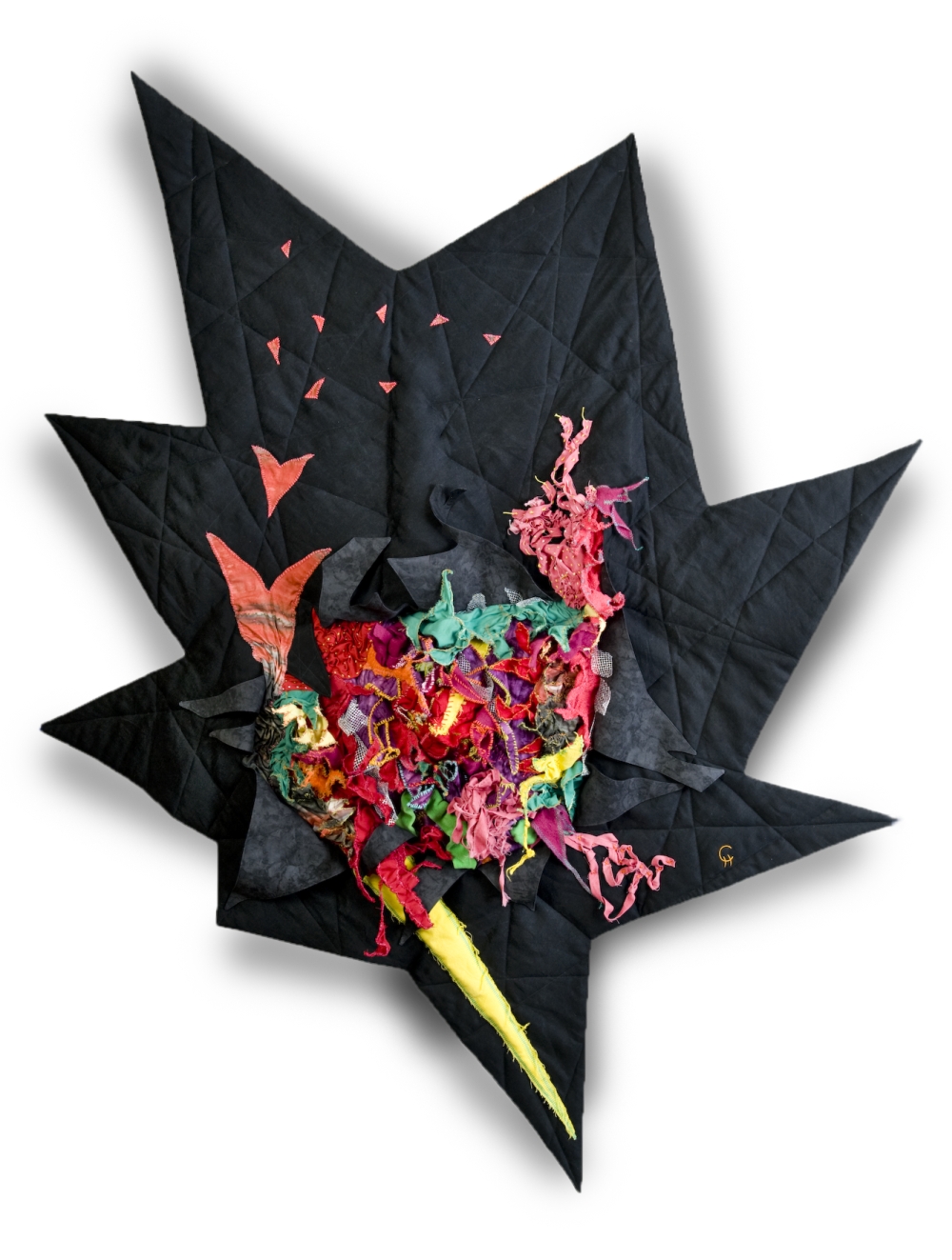 (Photographed by K. Scheuring)
Ganz schöne Wut: (ger. really beautiful/strong rage) 3D quilt (at least the outer prongs are quilted) made from cotton fabrics and mixed fabrics, machine and free hand sewn, machine quilted, embroidered by hand.
This piece was accepted for the exhibition "Grenzüberschreitungen" (ger. Crossing Borders) of the Patchwork Gilde Deutschland e.V. and was exhibited from September 2010 to November 2011 at different places in Germany.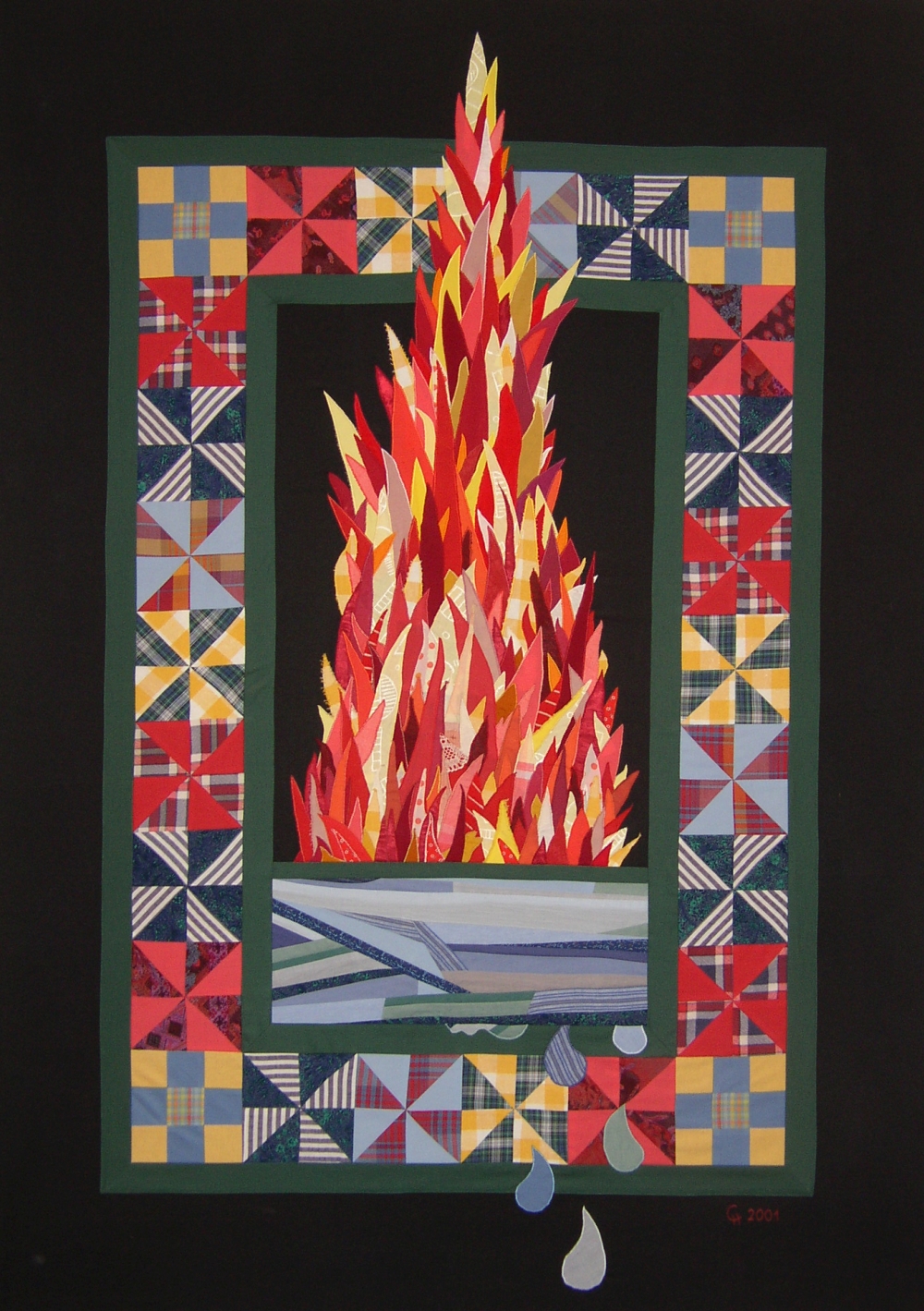 Liebe in mir (ger. Love within me): Application stretched on a wooden frame, 135 cm x 184 cm
Cotton fabric, sewn by hand and using a machine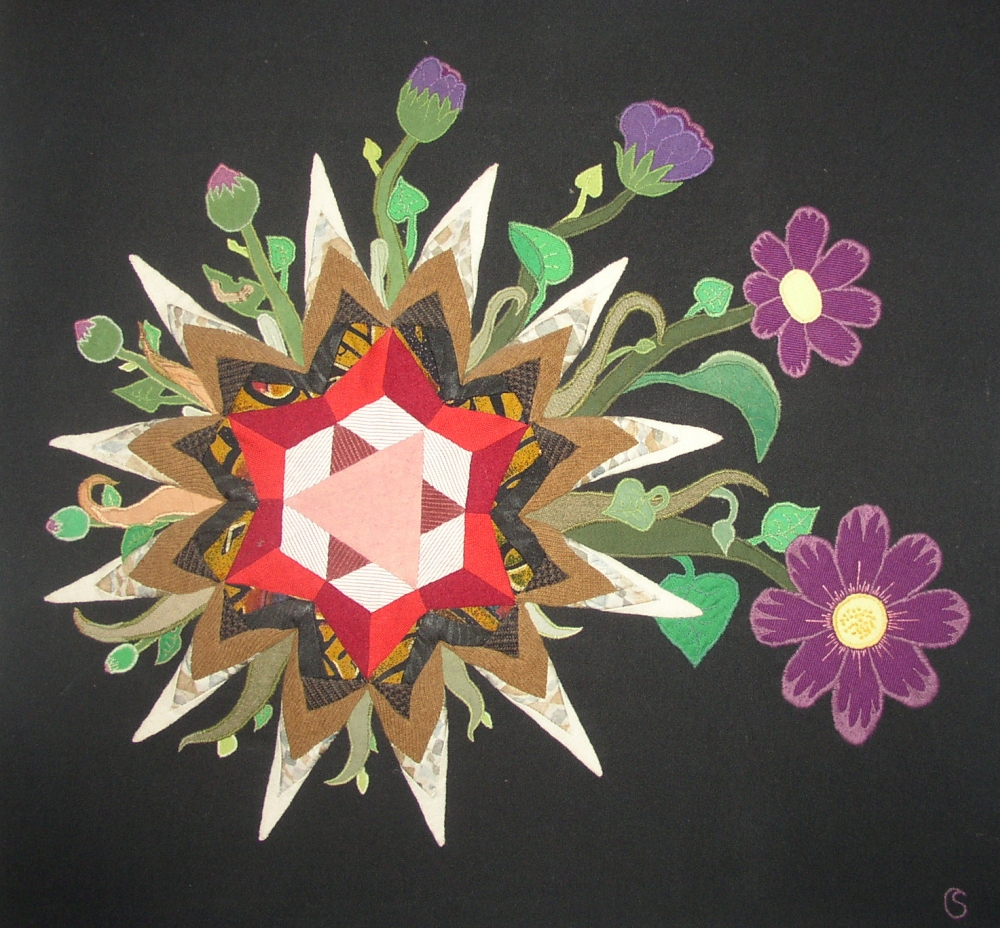 Kreislauf (ger. cycle) : Application put on a wodden frame
Cotton and wool fabrics, sewn by hand and machine, embroidered by hand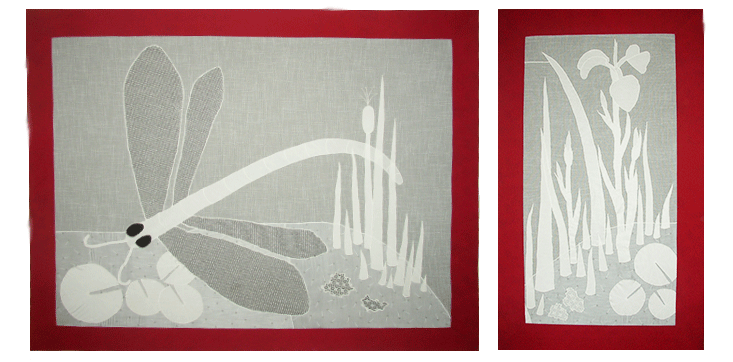 Pond and Dragon-fly: originally designed as curtains for two windows that were next to each other as an application out of curtain fabrics.
The black background and the red fabric frame were later added and the pieces was put onto a wooden frame.
Pond: 90x150cm, Dragon-fly: 190x150cm